Are your new summer shoes bruising you? Apply our tips and the problem will disappear!
Are your new spring shoes bringing you a lot of pain? There are ways to deal with it – learn about them!
You need about 3 min. to read this post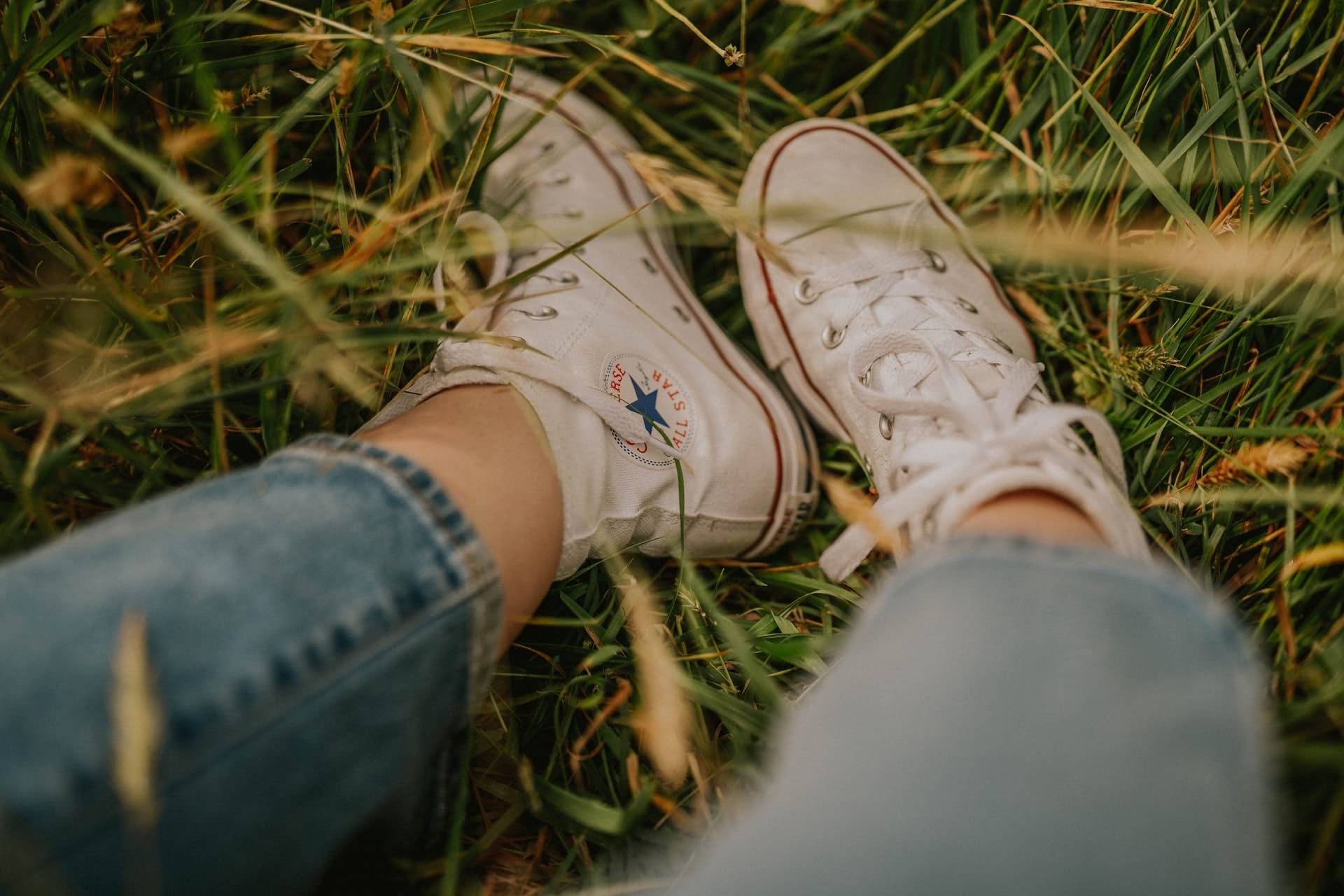 You fell in love with those shoes at first sight, and they … turned out to be uncomfortable? Do not write them off. There will be a way for everything.
Abrasive shoes – this problem is familiar to many people!
Nothing makes walking freely more miserable than abrasive shoes. But who among us has not happened to buy a pair of stilettos or moccasins, which looked beautiful, but turned out to be not quite comfortable? Unfortunately, walking in such shoes is a real ordeal, and we can't always or don't always want to return them. Spring is the time of buying new shoes and it's easy to have a mishap of this kind. Fortunately, there are ways for everything – meet ours!
Shoes rub off – why does it happen?
You think you have chosen the right size of shoes, but they nevertheless rub off? Most often the cause is the material from which the shoes are made. Often it is wrong, which comes out only in prolonged contact with the foot. This happens even in the case of leather, which, although considered the best material, can be simply hard. Sometimes we also have to deal with very poor quality footwear. Another thing is that it happens nevertheless that the size of footwear is wrong – too small or simply unsuitable for a wide or narrow foot. There can be many reasons for this situation, but it's always a shame when beautiful shoes are about to go to waste!
Reach for shoe stretching spray
Did you know that there is such a thing as a shoe stretching spray? It's a real must-have at home! If every one of us had such a product, it would avoid many disappointments. With a shoe stretching spray, you can easily soften the hard material from which your shoes were sewn. The procedure is simple: you spray the inside of your shoes and wait a few hours. The action should be repeated several times to achieve the desired effect.
Make use of… socks!
That's right! You can stretch your shoes with the help of socks. Put them on your feet and then put on your shoes. Walk around the house this way for 10-15 minutes a day. You need a few days for the shoes to stretch.
Put the shoes in the freezer
You may have heard of this method. The idea is to put a bag tightly filled with water in each shoe – and put such shoes in the freezer overnight. How does it work? The frozen liquid increases in size, so on occasion it will contribute to stretching the shoe.
Ask for help from a cobbler
You should also think about getting help from a professional. A shoemaker has tools in his workshop, with which he can easily stretch shoes. So if you don't want to do it yourself, a trip to him is a very good idea.
How to prevent the shoes from getting bruised?
Well, we already know what to do to stretch shoes. However, before we succeed, there is a risk of injuring our feet. Gel shoe insoles are definitely something you should always have at home, or even in your purse, to apply them when you find after you've gone out that your new shoes are not the most comfortable!
main photo: unsplash.com/Camden & Hailey George
How to style cowboy boots? They will still be hot in autumn!
Cowboy boots are a type of footwear that will be fashionable in the fall season. Check out what to pair them with to look great!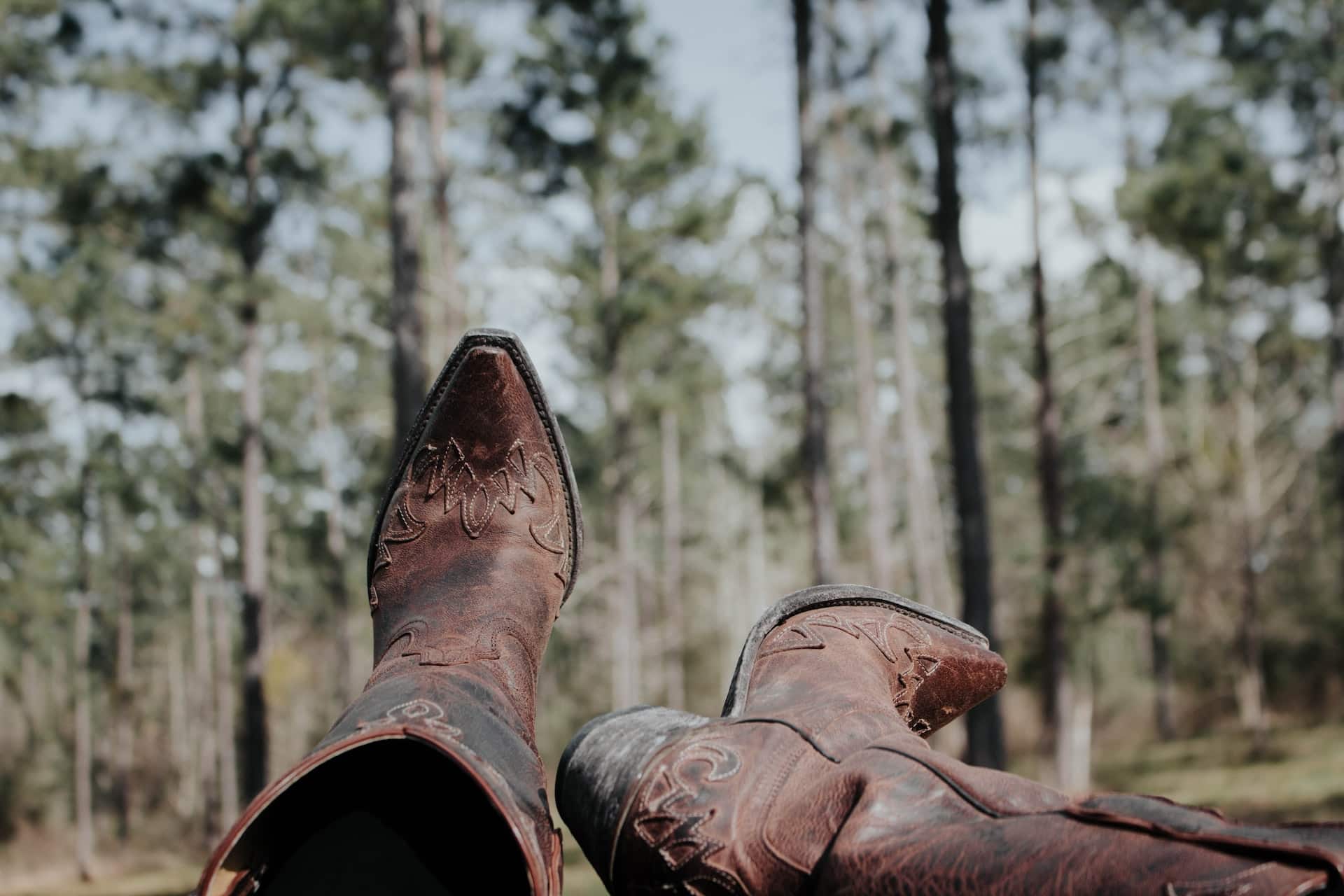 Cowboy boots are a type of footwear that once in a while comes back into fashion. This is what happened this season – cowboy boots are hot again! These boots add character to styling. You can love them or hate them. However, it is worth looking at cowboy boots and the styles of which they are a part. Maybe you, too, will be convinced to them. In this article you will learn how to style cowboy boots.
Heeled cowboy boots and dresses
Cowboy boots look great when paired with airy clothes. They will look especially good with an autumn dress. Cowboy boots will go well with all kinds of dresses and skirts this season. They will be a good option for a short dress, because thanks to the heels they will optically lengthen your legs and make you look taller. They are also a great idea for maxi dresses – thanks to the heels, the material will not drag on the ground, and you will be comfortable. Cowboy boots look elegant and stylish, so any type of dresses will like them, whether it is an airy, evening or sporty creation.
Cowgirls paired with a pleated skirt
Pleated skirt is a hit this fall. How about juxtaposing it with cowboy boots? It can be a great combination. Black pleated skirt midi version, colorful blouse and black cowboy boots. All complemented by an elegant handbag and sensational makeup. Such styling will look extravagant, and at the same time beautiful and fashionable.
Cowboy boots and pants
You can also wear cowboy boots to a styling in which the main fiddle is played by pants. However, it is better to choose fitted ones, because mom jeans or other wide-legged pants can take away from the charm of cowgirls. It is best to combine black or brown boots with black pants. Let a white T-shirt or shirt and a denim katana complete the look. Combine this with abundant jewelry and delicate makeup and your styling for an autumn outing is ready!
Cowboy boots go well with a trench!
Trench is a closet item that almost every woman has in her closet. This type of garment looks great in combination with cowboy boots. If you choose a camel coat and boots in shades of brown and beige, you will look insane. What's more, the whole thing will be in keeping with this season's trends. You can complete the styling with your favorite shopper bag.
What color shoes to choose?
Until a few years ago, everyone repeated the same rule – shoes must be the same color as the handbag and belt. Today we already know that it doesn't work that way! Each of these accessories can be in a different color, and it still has the right to look good. It all depends on what you put on, what kind of jewelry and makeup you wear. Black platform shoes will look quite heavy. Keep this in mind, so as not to unnecessarily overload your styling. 
main photo: unsplash.com/Rachel Coyne
How to wear over-the-knee boots to look fashionable and stylish?
Over-the-knee boots have been in fashion for a few seasons now! Check out how to wear them to look classy!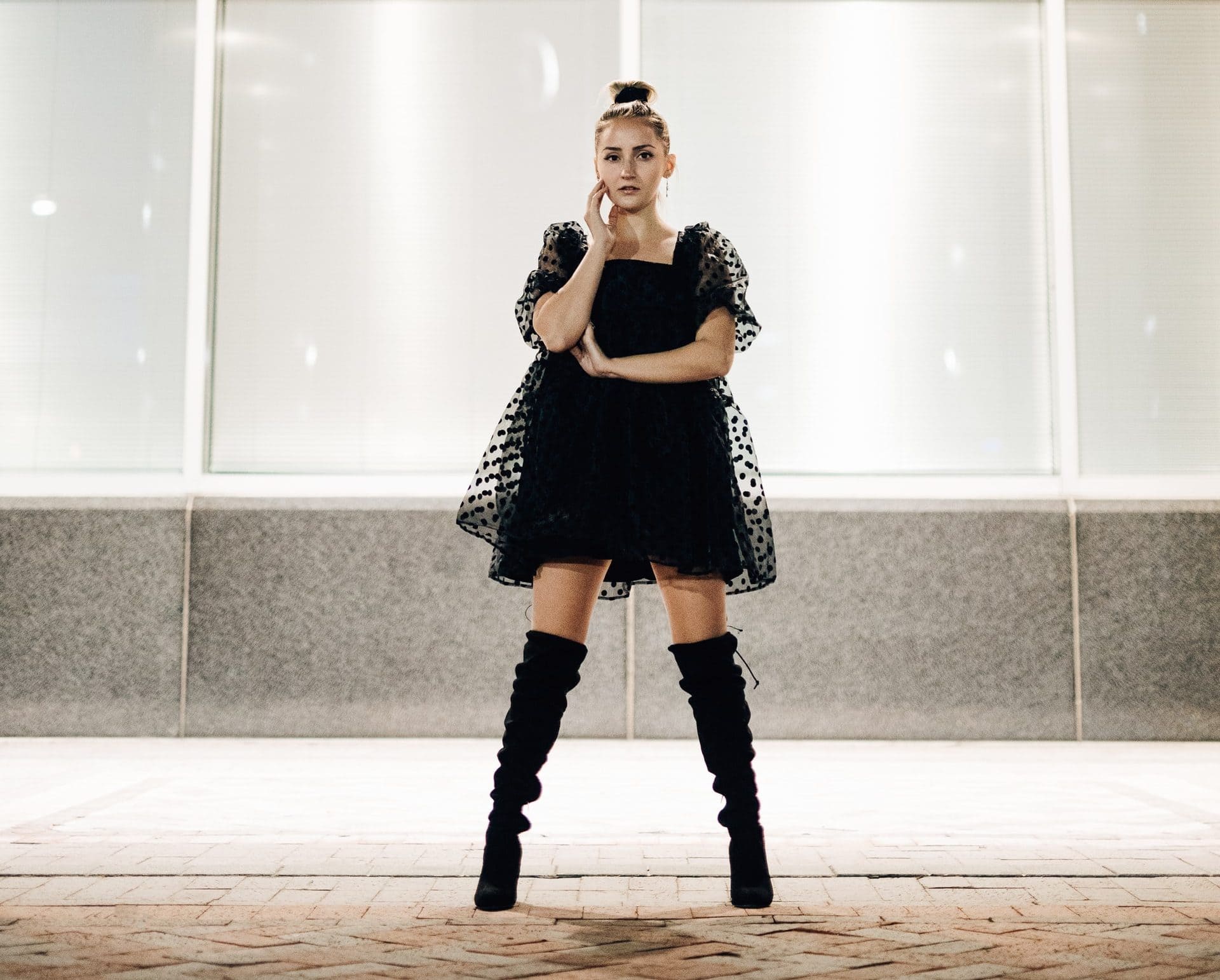 Over-the-knee boots are the latest fashion trend. Although they were initially considered extravagant and were approached with quite a distance, millions of women quickly fell in love with them. If you're still not sure if over-the-knee boots will suit you, check out our tips!
Over-the-knee boots need no introduction. Most of us reach for them every winter, because they are extremely comfortable and warm. However, for a few seasons now, over-the-knee boots have become more and more popular. They are made for cold feet, because they perfectly protect against cold and moisture. If we wear them with heels, they optically slenderize and elongate our legs. There is no doubt that over-the-knee boots are eye-catching, so wearing them you will surely draw attention to yourself.
Over-the-knee boots – for whom?
Over-the-knee boots are certainly suitable for people of short and medium height. Such boots will make legs optically longer. If we want to add even more inches, we can reach for over-the-knee boots with heels.
People with strong or wide calves will also be satisfied with over-the-knee boots. Long upper will make sure the problematic parts of legs are cleverly covered. The cut which widens towards the knees will be the best in this role. In it the calf will not be tight and you will not see how thick it really is.
Owners of slim legs will also look great in knee-high boots. In their case, cut with a narrow upper will be the best. If you are afraid that the boots will slip while wearing, choose a model with a tie at the top, which will support the upper.
Over-the-knee boots for a dress
If you don't know how to start your adventure with over-the-knee boots and what styling to wear them with, start by pairing them with a dress. The most important thing is that the dress should be short enough for you to show off the whole upper. There should be a visible gap between the end of the upper and the dress material, which will make the style look light and airy. If you want to look classy, choose boots made of suede and the dress sewn from a plain, solid material. It looks good when the color of dress contrasts strongly with color of shoes, so we suggest wearing red, green or blue dress with black boots.
Over-the-knee boots with skirt
Wearing over-the-knee boots with short skirt will also make a great fashion statement. The cut of the skirt is flexible – it can be close to the body or oversize. The most important is that, as in case of dress, it should fully expose the whole length of boots. Over-the-knee boots look great with leather skirts, pleated skirts or simple monochrome cuts.
Over-the-knee boots for long pants
Nothing prevents you from wearing over-the-knee boots with long pants as well. They can be classic blue jeans or pants made of other material, such as eco-leather. If you want to look good with such a combination, make sure the pants fit your figure and are wrinkle-free. You can wear an oversize sweatshirt or sweater with this style.
Main Photo: Kyle Cleveland/unsplash.com
Boots and boots – which models are hot this season?
Comfortable shoes are the basis of any styling, especially this autumn. Check out the models that you can not go indifferent.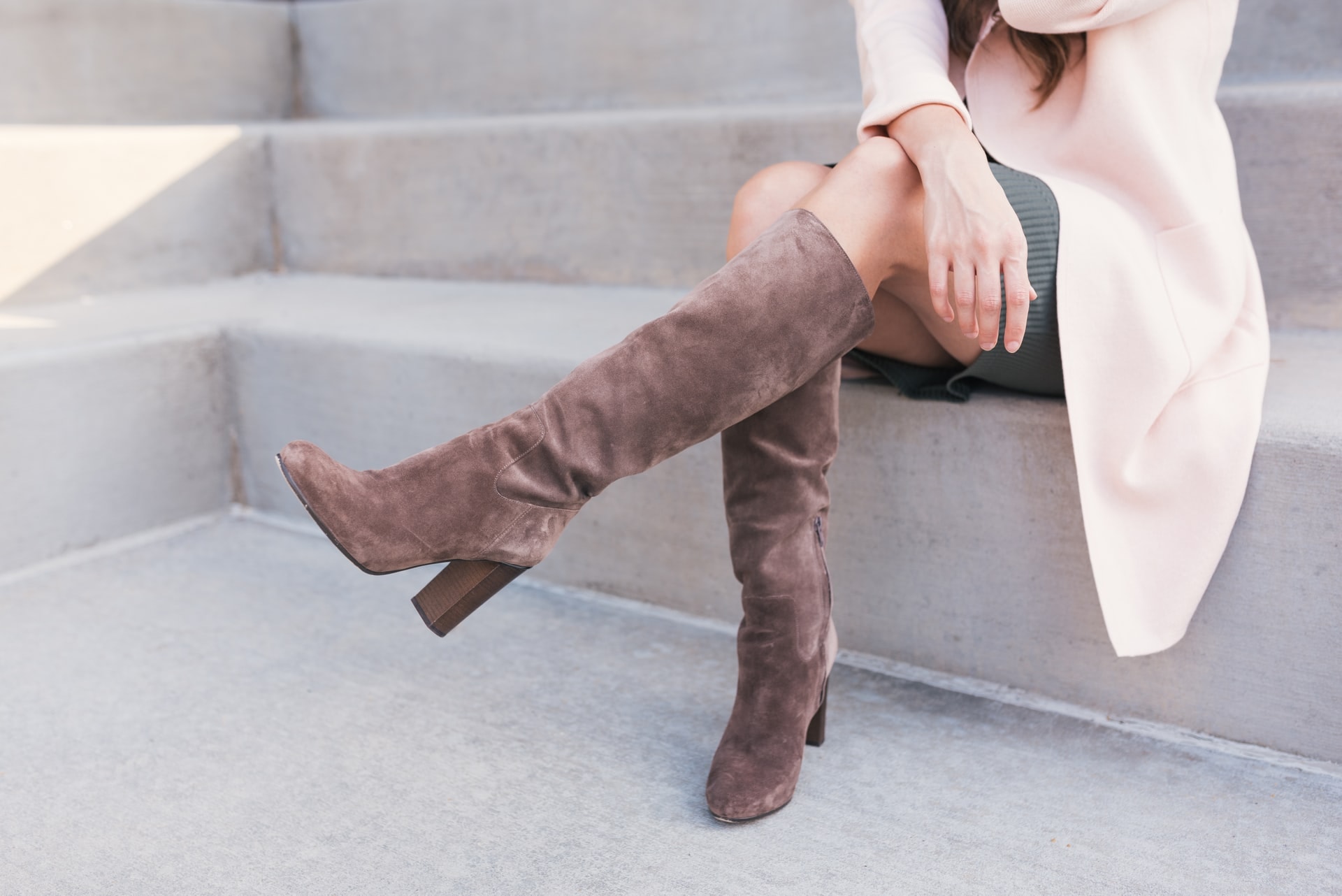 Autumn is the time of year when we eagerly reach for different models of boots and boots. After all, it is in these shoes that we will be warm and dry during the autumn rainy season. Which models are worth betting on this season?
Boots and boots are classics every autumn. When we choose the perfect model for us, we will be able to wear it on many occasions and in any weather.
Cowboy boots
A classic of the genre among autumn footwear: cowboy boots. For a few seasons now, cowboy boots in light colors have been the king: white, cool beige and warm caramel. When buying your favourite model, remember to choose the length of the upper according to the proportions of your figure
If you are not afraid of fashion experiments, choose openwork cowboy boots. They will go well with airy, romantic outfits, such as those in which the main role is played by a delicate A-line dress
Cowboy boots are especially popular with people who love boho style. Loose jeans, tassels and open-work vest is a boho set, where cowboy boots will fit perfectly.
Booties
Even though boots may remind you of your childhood, there is nothing to stop you from wearing them this fall! These lace-up boots with a high upper are conquering the fashion world. They can be worn with practically every outfit: with pants, dresses, skirts. Shoes are available on the market in many colors, which you can choose depending on the occasion. For more formal outings choose boots in classic, safe colors like black or brown. If you want to add a bit of craziness to your outfit, you can change laces in your boots for ones in crazy colors.
Boots with high upper
Booties with high upper are very popular every season because of their comfort and versatility. These boots will fit to almost every figure. It is enough to find appropriate length of the upper and the height of the heel. You will find in stores both boots on a platform, as well as on a heel and a stiletto. Regardless of your everyday style, you can choose boots in elegant style or referring to the grunge aesthetics.
Trappers
What would autumn be without solid, waterproof trappers? Certainly something terrible, because trappers are a must-have for rainy weather. They are, above all, very durable, and we can wear them not only on mountain trips. They go perfectly with jeans and a parka jacket. However, nothing stands in the way of matching them with a dress or elegant autumn coat. If you want to add a few centimeters of height, put on trappers. Their thick sole will successfully replace the heel, and our foot will be comfortably positioned.
Booties with a pointed tip
The return to the fashion of the 2000s has been observed not since today. This fall it will also have a visible accent in the form of pointed boots. Although they evoke rather mixed feelings in some, it is worth to break through and have at least one pair in your closet. They are especially suitable for those who like to give their outfits an original, rebellious character. Pointed boots model the leg and make it visually slimmer. This model of shoes is especially appreciated by short ladies, because the elongated ending optically improves their silhouette. Pointed boots are often chosen by women for bigger occasions. In combination with a dress or skirt they create an original, but elegant and output styling.
Main photo: Arnel Hasanovic/unsplash.com