How do I use hats to complete my outfit?
Hats are an underrated part of any outfit. We tell you which type of hat to choose to complete your outfit.
You need about 3 min. to read this post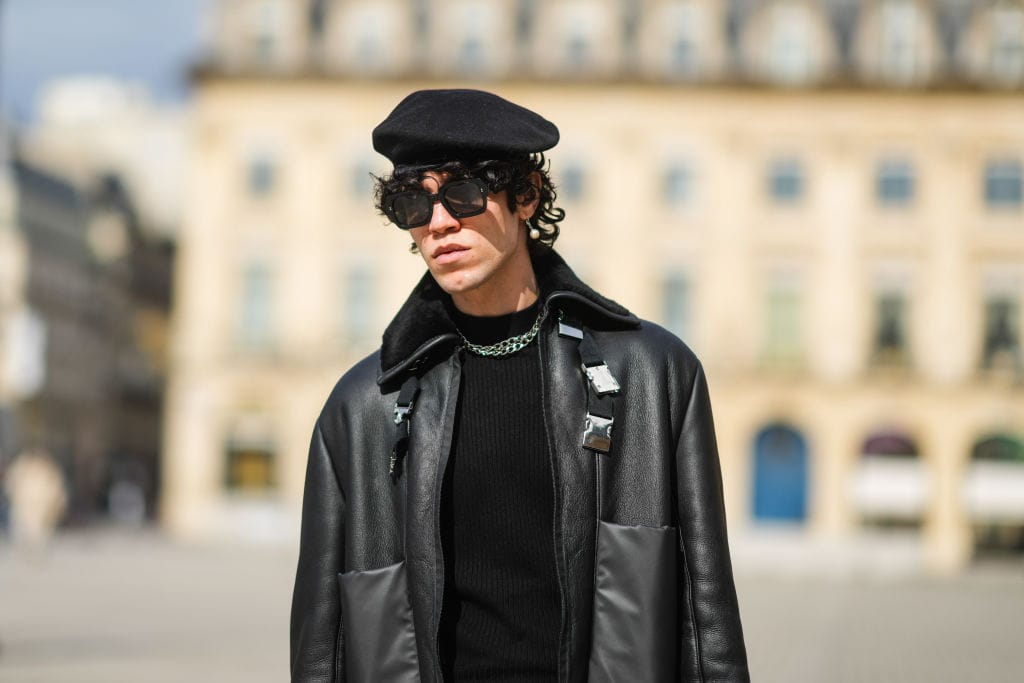 Headwear is an often underestimated element of a closet. However, it can be the key accessory that turns a good outfit into a great one.
We like to tell you how to match our popular hats with any outfit.
The baseball cap
You'll recognize the helmet by its built-in peak and triangular profile, traditionally made of cotton or thick woolen yarn. The history of the helmet is an unusual one. In 1571, the British government decided that, in support of the shepherding industry, every man was required to wear a woollen hat on Sundays.
This law didn't last long, but thanks to its simplicity and versatility, the woollen hat has become a timeless headwear. If you decide to incorporate it into a contemporary look, be frugal – too many retro pieces will make your outfit look more like a cheap costume than a carefully planned outfit. To add depth to your outfit, instead of going for crazy patterns or flashy colors, opt for layering.
Beret
In the early 1990s, French women saw the potential of the beret. Wearing it with a grace worthy of their status, celebrities such as Edith Piaf and American actress Lauren Bacall turned the headwear, which in the past was associated with commoners, into a fashion accessory appropriate for the upper classes as well.
This tendency of the beret to break down class boundaries can be seen repeatedly throughout history, as it was an integral part of social revolutions. The beret is therefore the headwear of choice for someone who is bored with the old and who is always on the lookout for new fashion. Sometimes going for a classic is just the innovation that modern trends need.
A beret goes with any outfit, as long as it is kept in an elegant style. To express your fiery temperament, reach for a beret in scarlet and match it with a black coat. The high contrast will ensure you attract the curious stares of others.
Baseball cap
The baseball cap is the familiar soft hat with a hard peak. Originally worn only by athletes, today it is used either as a fashion accessory or as reliable eye protection from the sun.
The baseball cap is a classic choice for any contemporary look. It looks best with sportswear, but it also goes well with the wide and loose-fitting clothes associated with urban style.
If you want to create a more elegant look, pair it with a hand embroidered sukajan jacket to add a pop of color to your outfit.
Gavroshka
The gavroshka is a round, flat baseball cap made entirely of linen. It is the perfect cap for warm summer days, as it is light and airy, and its shape protects your head from the sun. If you are looking for something round and elegant, like a beret, but with enough protection from the sun like a baseball cap, then the gavroshka should be your choice.
The gavroche gets its name from Gavroche, a character in Victor Hugo's novel described as "the atom of Paris." The character was meant to symbolize (like the beret) the will to fight for social justice, openness and an optimistic approach to life. The beret is therefore a choice for people who appreciate expressing their personality through clothing. It is suitable both for everyday stylizations, such as simple jeans pants and a white shirt, as well as more exquisite, formal outfits. Light, summer outfit will be complemented by juicy yellow gavroshka.
Tie or bow tie – which will work better?
Men are often faced with a difficult choice – a fly or a tie? We answer this question in this article. Check it out!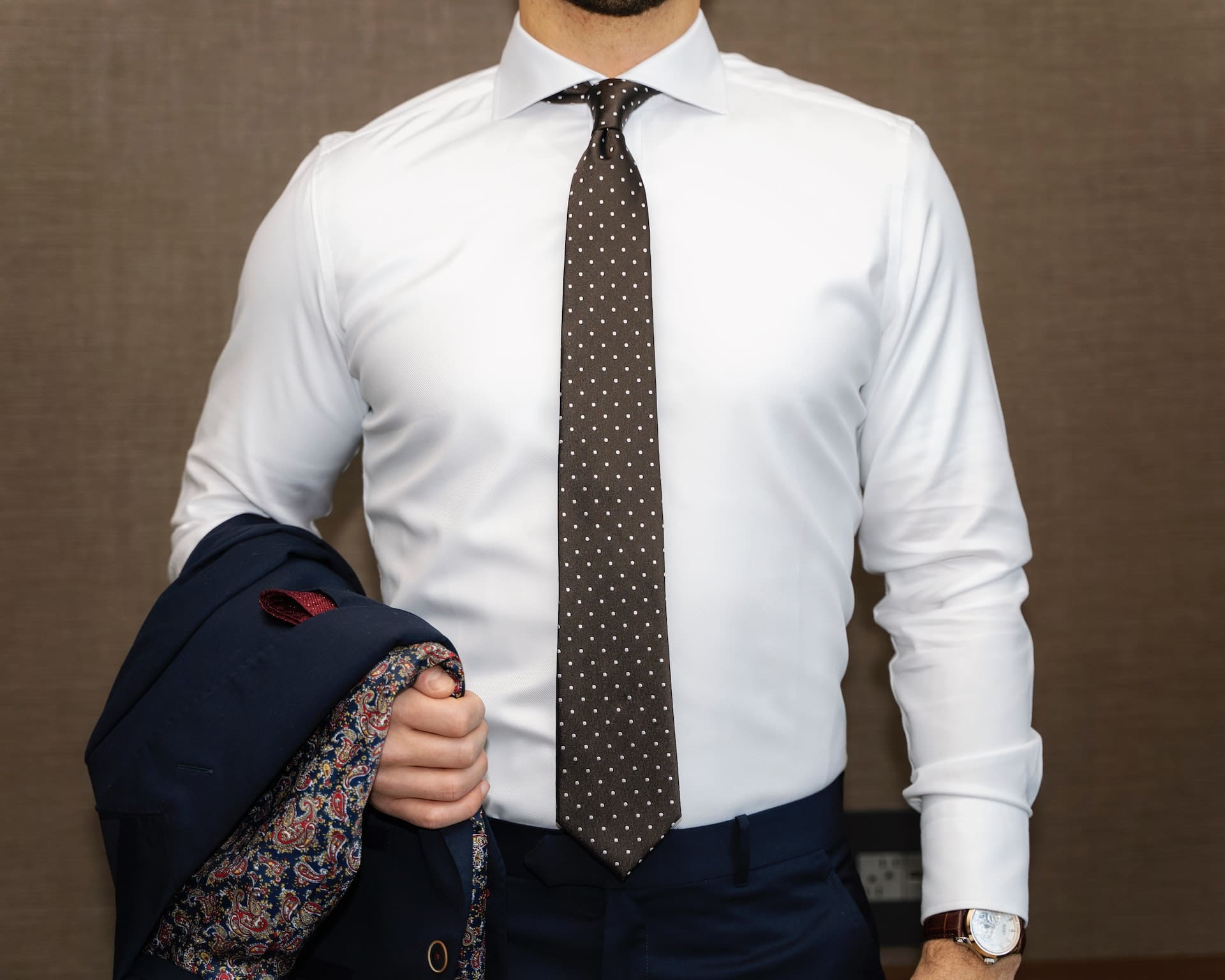 Sometimes there are events for which gentlemen should dress elegantly. Once you've chosen a suit and shirt, it's time for accessories. Many men still have a problem with this and hesitate – should they choose a fly or a tie? You should certainly consider what will suit the occasion more. In this article you will learn more about this topic and learn how to choose the right accessories for the occasion.
What should you follow when making your choice?
The main factors you should follow when choosing accessories are your outfit, age and body type. The occasion and personal tastes also matter. A tie is an option that goes with most suits. However, the fly often adds character to the styling. It suits both a tuxedo, a tailcoat and a suit.
In the case of the latter, we can wear a fly in basically any shade. However, it is worth being careful. Popular lately are flies in intense and bright colors. These are suitable for less formal occasions. For a big outing it is better to choose a fly in a classic shade.
Wedding
The most commonly chosen accessory for a wedding is a tie. You should pay attention to its width, length, as well as pattern and color. If you want to opt for a classic and elegant look at a wedding, then choose a tie, If, on the other hand, you prefer to stand out in style then consider choosing a fly. This is an accessory often chosen by the groom. For this reason, it's a good idea to talk through this decision with the newlyweds so that you feel comfortable at the event.
Prom
The prom is another elegant occasion. You can wear both a bow tie and a tie to it. If you decide to wear the latter, a dark-colored one is best. You can add spice to your styling with the way you tie it. However, avoid ties that are not very elegant.
The bow tie, on the other hand, is more often chosen for proms, as young people love it. Here, too, avoid bright colors. During the prom, it is better to leave the colorful ones in the closet.
Business meeting
A business meeting is an occasion for which it is definitely better to choose a tie. Flies will work well here in exceptional cases. To avoid a mishap, it is always better to choose a classic tie for such an occasion.
A tie is a classic of the genre – it should be in every man's closet. It works well for almost any occasion. It is also worth having a fly – it is an accessory that adds character to the styling. Remember, however, that a fly optically widens the face, while a tie slims it down. Keep this in mind when choosing your styling. 
main photo: unsplash.com/Benjamin Rascoe
What should I consider when choosing a tie?
Wider, narrower, shorter, longer, black, coloured or patterned? There are lots of different types of ties – so find out how to choose the right one. We've put together the most important rules!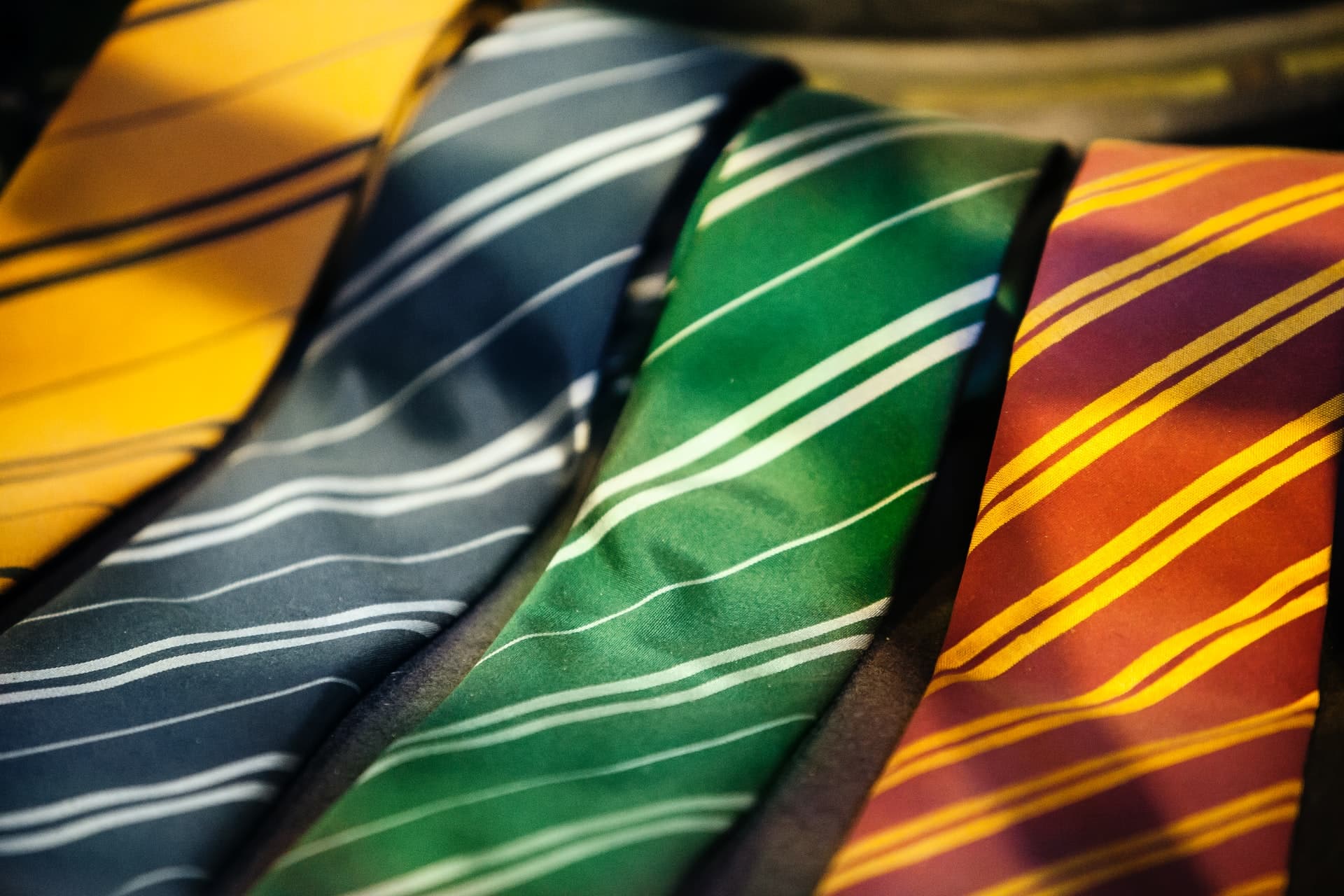 It complements the style, emphasizes its elegant character, and at the same time appears in many versions. Tie, as it is referred to, should be properly selected. So what should we pay attention to when choosing it?
Ties – what types are there and what distinguishes them?
It would seem that ties are such a common thread in men's hairstyles that it's easy for anyone to find the perfect match. But that's not the case. Men often don't know what color to wear them, or what length, much less what width, to choose
To begin with, ties can be standard (between 7 and 9 centimeters wide, the most versatile), narrow (between 4 and 6 centimeters wide) and wide (over 9 centimeters wide). It can also be made of different materials, such as silk, wool, cotton or polyester, among others.
The color and pattern of the tie are important features. Here, you can choose from plain plain ties, striped or striped ties, polka dots and polka dots, geometric patterns, fine darts or heavily patterned ties.
How to match a tie with your shirt and your overall style – practical tips
The width of a tie and your body shape
Always ensure that your tie is proportionate to your figure and face. Men with broad shoulders and broader arms will not look good in a thin tie, while slender men in a wide one. The same goes for jacket lapels, which should also be matched proportionally to your figure. As a general rule, the width of the tie should correspond to the width of the lapel
How far should a tie extend?
When it comes to choosing a tie, we also pay attention to its length. A correctly knotted tie should reach either to the top of the belt buckle or slightly above it, but no more than 2 centimeters.
How do I choose the right tie color?
There's still the question of how to match the color of the tie to the shirt and the overall suit. Generally speaking, a solid, plain navy blue or burgundy tie is the most versatile and will go with most suits and shirts.
Above all, a white shirt offers great scope for styling. Almost all colors and patterns go with it. A light blue shirt can be matched with a navy blue tie, but also with a burgundy, dark green, yellow and pink tie.
A navy blue suit should be matched with a burgundy, dark green, navy blue, brown, gray or black tie; a gray suit with a burgundy, black or gray tie; a brown suit with a navy blue, dark purple, brown, burgundy, orange, yellow or red tie.
What about tying a tie?
When choosing a tie, we are not only guided by its width, length and color. The way it's tied is just as important. There are three different ways to tie a tie, and the general rule is that it shouldn't look sloppy or like it's been tied with a lot of effort. The simplest is a four-in-hand, or a half Windsor knot, while the most formal is a big, full Windsor knot.
When not to wear a tie?
A tie is worn on many occasions, but there are also occasions when it's not welcome, and even forbidden. This is the case with a tuxedo. In this case, the tie must be replaced with an elegant bow tie. The same situation is when we put on a tailcoat or when we go to a formal occasion in the evening, such as a ball.
Main photo: Rhii Photography/unsplash.com
The most desirable watch brands
Watches are luxury goods. Meet those that are the most desirable not only in Poland but also in the world!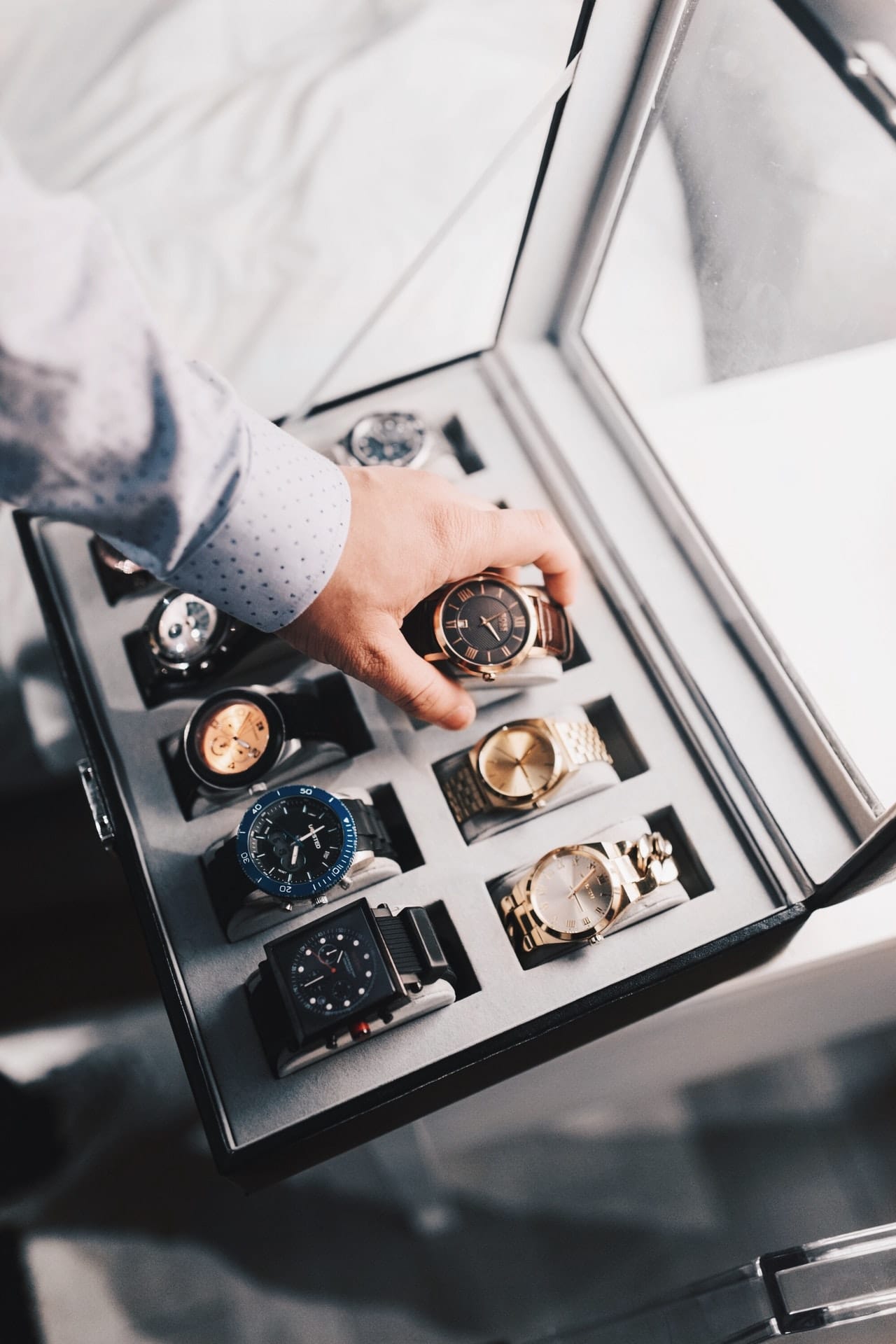 Watches, of course those with the best mechanism, are an object of desire for many people. They gained their fame over the years, to now be a high-end commodity. What distinguishes these models? In addition to the mechanism, of course, the design! He meets those whose prices reach the highest ceiling, and not without reason!
Time for luxury, or premium watches
The best watches are considered to be those with Swiss origin. In the book "Swiss made. The Unknown Story of Swiss Success" by R. James Breiding, a list of the most desirable watches of all time can be found. Based on this list we have prepared our ranking.
Vacheron Constantin brand is one of the best on the watch market, which can also boast the longest period of activity. The company was reactivated in the 1980s. The mechanism and design of watches signed with this brand have remained the same for years, only minor improvements are introduced.
Patek Philippe produced in 1839 very quickly gained a premium status. For what reason? Not only the mechanism is responsible for the success of this brand, but also the number of watches produced. Annually only 40 thousand pieces of this model go to the customers. Its price is 15 thousand Swiss francs
The next on the list is Audemars Piguet – the Royal Oak model, the first copy of which saw the light of day in 1875. The price of this model is 12 thousand francs, and the number of produced pieces is even less. We can certainly not talk about mass production. Only 27 thousand pieces appear annually.
The Breuget Classique is a beautiful watch with traditions. It was created in 1775 and since then it has been appreciated by the most demanding consumers. Every year 42 thousand copies go to stores. How much do you have to pay for this gem? Bagatelle 15 thousand francs.
Of course, this ranking would not have the appropriate prestige, if Rolex did not appear in it, and precisely the model Chronographe Daytona. In 1905 this watch took over the market. It is not as unique as the rest, because 700 thousand pieces are produced every year. One Rolex costs 6 thousand Swiss francs.
In 1735 a Blancpain watch appeared. This model costs 10 thousand francs, but it is extremely unique – only 16.5 thousand pieces are produced annually.
Cartier – Tank, this beautiful watch was created in 1847, its mechanism will certainly delight many a watch connoisseur. It is produced in 350 thousand copies per year, and its price does not exceed 5 thousand Swiss francs.
Jaeger-LeCoultre – Reverso is a classic on the Swiss market. The first model of this watch appeared in 1833. 65 thousand of these watches are produced every year. The cost of one is 6 thousand Swiss francs.
Parmigiani Fleurier model – Kalpa. This is one of the youngest brands in this list. The first copies were created in 1996, but they immediately gained sympathy and recognition. 5 thousand watches – only so many pieces are produced annually. Their price is 8 thousand francs per piece.
Piaget – Altiplano is a watch that was created in 1874. It is very elegant and this distinguishes it. Annually 20 thousand watches are put on the market. It costs a bagatelle 14 thousand francs.
Watches have always been an indicator of prestige. The models presented in the list are not only great in terms of mechanism, but also unique.